Antiquity
The Prehistory
Fiery Lord
Chi-you
Yellow Lord
Xia Dynasty
22-17th c. BC 1
2070-1600 BC 2
2207-1766 BC 3
Shang Dynasty
17 c.-1122 BC 1
1600-1046 BC 2
1765-1122 BC 3
Western Zhou
1134 - 771 BC 1
1046 - 771 BC 2
1121 - 771 BC 3
Eastern Zhou
770-256 BC
770-249 BC 3
Sping & Autumn
722-481 BC
770-476 BC 3
Warring States
403-221 BC
476-221 BC 3
Qin Statelet
900s?-221 BC
Qin Dynasty
221-206 BC
248-207 BC 3
Western Han
206 BC-23 AD
Xin (New)
9-23 AD
Western Han
23-25 AD
Eastern Han
25-220
Three Kingdoms
Wei 220-265
Three Kingdoms
Shu 221-263
Three Kingdoms
Wu 222-280
Western Jinn
265-316
Eastern Jinn
317-420
16 Nations
304-420
Cheng Han
Di 301-347
Hun Han (Zhao)
Hun 304-329 ss
Anterior Liang
Chinese 317-376
Posterior Zhao
Jiehu 319-352 ss
Anterior Qin
Di 351-394 ss
Anterior Yan
Xianbei 337-370
Posterior Yan
Xianbei 384-409
Posterior Qin
Qiang 384-417 ss
Western Qin ss
Xianbei 385-431
Posterior Liang
Di 386-403
Southern Liang
Xianbei 397-414
Northern Liang
Hun 397-439
Southern Yan
Xianbei 398-410
Western Liang
Chinese 400-421
Hunnic Xia
Hun 407-431 ss
Northern Yan
Chinese 409-436
North Dynasties
386-581
Northern Wei
386-534
Eastern Wei
534-550
Western Wei
535-557
Northern Qi
550-577
Northern Zhou
557-581
South Dynasties
420-589
Liu Song
420-479
Southern Qi
479-502
Liang
502-557
Chen
557-589
Sui Dynasty
581-618
Tang Dynasty
618-690
Wu Zhou
690-705
Tang Dynasty
705-907
Five Dynasties
907-960
Posterior Liang
907-923
Posterior Tang
923-936
Posterior Jinn
936-946
Posterior Han
947-950
Posterior Zhou
951-960
10 Kingdoms
902-979
Wu
902-937 Nanking
Shu
907-925 Sichuan
Nan-Ping
907-963 Hubei
Wu-Yue
907-978 Zhejiang
Min
907-946 Fukien
Southern Han
907-971 Canton
Chu
927-956 Hunan
Later Shu
934-965 Sichuan
Southern Tang
937-975 Nanking
Northern Han
951-979 Shanxi
Khitan Liao
907-1125
Northern Song
960-1127
Southern Song
1127-1279
Western Xia
1032-1227
Jurchen Jin (Gold)
1115-1234
Mongol Yuan
1279-1368
Ming Dynasty
1368-1644
Manchu Qing
1644-1912
R.O.C.
1912-1949
R.O.C. Taiwan
1949-present
P.R.C.
1949-present
XIA-SHANG DYNASTIES
Paul Kennedy, in "The Rise & Fall Of The Great Powers", claimed that Europe's mountaineous geography had guarranteed the disunity and individuality of European nations, principalities and people. Then, is China lacking the mountains, gorges and deserts that should have precluded the "unification aspiration" of the Chinese people from a continuance? The geographical thesis marks Paul Kennedy's 600-page book invalid automatically. China, at least from the time of Confucius, repeatedly talked about the term "da [grand] yi [one] tong [unification]". What Confucius argued 2500 years ago was different from the unification agenda of kings or emperors: Confucius was talking about which month of the year should be treated as the first month on the "da [grand] tong [unification] li [calendar]" [i.e., a same term used by Ming Dynasty Emperors in distributing China's calendars to vassals including Japan & Ryukyu]. In Confucius' times, Song Principality was using Shang Dynasty's calendar [lunar December] as the first month; Jinn was using Xia Dynasty's lunar January as the first month; the Zhou court used lunar November as the first month of the year; and vassal Qin adopted lunar October as the first month of the year; and Han Dynasty emperor Wudi ordered Gongsun Qing and Sima Qian to devise the 'tai [grand] chu [start]' calendar to make January on the lunar calendar the first month. (In 1912, Sun Yat-sen decreed to abolish the lunar calendar, making the lunar January 1st the spring festival and the Gregorian January 1st the start of the solar calendar.)

China had been a united country or possessed an inertia for unity because of the same origin of our people as well as the invention and adoption of pictographic form of written language. Further, Confucian school of thoughts upheld the ancient ancestor worship to the apex, leading to the blood affinity of clans and families, a phenomenon that continued till the 1960s when communist China destroyed all tombs, including that of my grandfather. Our civilization, born out of a mundane society, had survived the impacts and challenges as a result of the establishment of our ancestoral belief and morality systems and values. In past thousand years, our people and clans were used to saying that we, of same last name, were from the same family 500 years ago. From Song Dynasty onward, Prime Minister Fan Zhongyan, as a philanthropic activity, had provided a model of purchasing lands for the same clan members. Each and every member of the clan, after success in career or wealth, would usually return to the hometown to rebuild the family ancestral pilgrimage. In early 20th century, the father of diplomat Gu Weijun [i.e., Wellington Koo] did the same in buying large patches of lands on behalf of the Gu clan. After Taiwan opened the visitation to mainland China in 1988, hundreds of thousands of compatriots had visited mainland to do the same. My word of advice for our Chinese brothers: Love your cousins. As Zhang Bingling said, the clan affinity was from foetus & placenta. You, as an individual Chinese, could make a change in today's China by spreading the message of love and care for your fellow brothers. As another ancient Chinese saying goes, it takes 10 years to plant a tree and 100 years to raise a person. "Raising a person [i.e., an ordinary Chinese person]" is a task that should be undertaken from ground up inside of China. Only after restoring the baseline of China's societal foundations and values [which had been destroyed by the communist regime] would there be possibility of a resurrected Chinese Nation.

While we adopted some commonly-accepted starting and ending years for Xia, Shang and Zhou dynasties, authoritative Chinese historian viewpoint is that the earliest substantiated year happened to be the fourteen year long "interregnum" during Western Zhou Dynasty, beginning from year 841 BC, the year when King Liwang of Zhou was ousted by the revolts of the Guoren (i.e., the civilians in the capital vs 'Yeren' the country people in the outskirts) and royal members of Zhou collectively administered the state affairs till King Xuanwang of Zhou was selected. As to reliable historical records, the oracle bones from Shang served the best example of underground records matching written records above-ground, while the excavations from Xia are still under research and point to the fact that some writing system, i.e., tadpole-style characters, did exist in earlier Xia Dynasty. A Chinese research project which started in 1995 had been reported to have pushed the exact date to the year 2070 B.C.E. as the point of origin for Xia Dynasty. Stanford University scholar, David Nivision, had derived the date of 2026 BC, instead, as a result of his own independent studies.

The demarcation line between the dynasties of Xia-Shang-Zhou and the pre-history lies in the monopolization of power by the son of Lord Yu and his family. Prior to Xia Dynasty, various tribes, mainly under the two tribal groups of Hua and Yi, recommended their best men for leadership as the stories of Yao-Shun-Yu reflect. Starting from Xia, the sons or brothers of the Xia king would assume exclusive power, instead. (Early dynasties, especially Shang Dynasty, did not strictly pass the power to their sons, but brothers. This is similar to the fashion as used by later nomads like the Huns and the Turks. Also to be noted is that all lords prior to Zhou Dynasty were entitled "Di" posthumously, meaning modern sense emperors or overlords. The lords from Zhou Dynasty humbly called themselves kings in respect for the earlier 'San Huang' and 'Wu Di'.)

Looking further up, prior to the trio-saints of Yao, Shun and Yu, there were eight legendary overlords of the Chinese history: They were 'San Huang' ['Three Huang'], namely, Fuxi, Yandi (Fiery Lord) and Huangdi (Yellow Lord), and 'Wu Di' or Five Di, namely, Shaohao (l. B.C.E. 2598 - 2515 ?), Zhuanxu (l. B.C.E. 2514 - 2437 ?), Gaoxin (l. B.C.E. 2436 - 2367 ?), Tangyao (Lord Yao, l. B.C.E. 2357 - 2258 ?) and Yushun (Lord Shun, reign 2257-2208 B.C.E. ?). Lord Huangdi (i.e., the Yellow Overlord, l. 2697 - 2599 BC?) was said to have possessed a chronicle official [Cangjie] who had first created Chinese characters. Like many Xia stories, the Cangjie characters remained a legend. According to Sima Qian, the Chinese overlords shared the same lineage: Lord Huangdi (Yellow Overlord) was the son of the tribe of Shaodian (disputed to be the name of a state rather than an person); Lord Huangdi had 25 sons, among whom 14 had established their own family names; one of his son is called Changyi, and Changyi's son, named Gaoyang, is Lord Zhuanxu; and Lord Yu (r. B.C.E. 2204-2195 ?) was said to be the grandson of Lord Zhuanxu as well as the father of the founder of Xia Dynasty. (Ban Gu of Latter Han Dynasty disputed the generation gap between Lord Zhuanxu and Lord Yu, stating that Gun was the fifth generation grandson of Lord Zhuanxu and that Lord Yu would be six generations away from Lord Zhuanxu.)

There is no doubt that a Xia dynasty existed before Shang Dynasty (1765 B.C.E. - 1122 BC) since Shang records described extensively events in the prior dynasty. One history researcher commented that "to authenticate ancient records, one has to rely on ancient scholars for more accurate records than later scholars." Confucius compiled some records on basis of what he read about the classics that existed before his times, and Confucius commented that he still somehow had access to the ancient classics though he might not have truly understood the essence of those classics. Historians made repeated reference to Xia, Shang and Zhou as 'San Dai', namely, the Three Dynasties. Should Confucius believe in the so-called 'Three Dynasties' of Xia-Shang-Zhou, then the existence of a Xia Dynasty could not be negated. (Confucius, who had compiled the ancient records, was responsible for preserving the ancient records in the books he edited, whereas the books from the Zhou Dynasty court and various principalities were largely destroyed by Qin Emperor Shihuangdi's bookburning. Though, Confucius, as he himself had acknowledged, should take the blame for revising the ancient records by keeping the statements that conformed with his filial and moral philosophy and purging those that did not.)

Corroborations abound to point to various ancient saints: Lord Yu had travelled across the nine ancient prefectures. Later ruler, like Zhang Shi of Anterior Liang Dynasty, would claim that the Mingsha (echoing sand) Mountain and San-wei (three precarious) Mountain in Dunhuang of Gansu Province would be where Lord Yu had travelled the western-most. Lord Yu's Tributes, "Yu Gong", with descriptions of ancient nine prefectures, was cited for manufacturing nine bronze (copper?) utensils called 'ding' [cauldron]. The nine utensils passed on from dynasty to dynasty. Zhougong, i.e., Duke of Zhou, under the order of Zhou King Chengwang, fulfilled the wish of King Wuwang in building the city of Luoyi (Luoyang) and moved the nine utensils there. When both Xizhou-jun (Duke Wugong) and last Zhou King Nanwang passed away, the Zhou people fled to the east; Qin retrieved the nine cauldrons from the Zhou court, and shipped them to Xian'yang, with one [or all nine] "ding" accidentally dropped into Si-shui River. (Senior scholar, like Prof Wei Chu-Hsien, had doubts about bronze existance at the times of Lord Yu, but recent excavations did produce copper items in southern Shanxi Prov at the times of Lord Yu. Ancient classics, on the matter of Chu King Zhuangwang's inquiry into nine cauldrons, had deliberately avoided the nature of Lord Yu's cauldrons. Prof Wei Chu-Hsien speculated that it could be of pottery nature. However, there is a possibility that the nine cauldrons could have been repeatedly re-cast over the course of history.)

Another corroborating fact would be Lord Yu's tomb on Mount Kuaijishan in Shaoxing of today's Zhejiang Prov. One of the grandsons of Lord Yu was permanently assigned to the Kuaiji land to guard the tomb, and the later Yue Principality was said to have descended from this lineage. Japanese, whom history chronicles repeatedly likened to the tattoo natives of the Yangtze Delta, had an interesting name for one of their four islands, i.e., Kyushu, a name that literally means the "nine prefectures".

Later, Xia Dynasty remnants would survive as the Qi-guo statelet, located in today's Qi-xian county of Henan Prov. The Qi-guo lineage continued onward through Shang and Zhou dynasties. Ancient proverb about a Qi-guo person worrying about the fall of skies would be related to this country. Another Xia remnant would be by the name of Chonghouhu statelet [i.e., Marquis Hu of Chong-guo Statelet] which was conquered by first Zhou King Wuwang by taking advantage of Chonghouhu people's following last Shang Lord Zhouwang's Shandong Peninsula campaign against Ren-fang-guo statelet to the east. [Scholar Wei Juxian claimed that Chonghouhu must have derived from Chong-bo, i.e., the tribe of Lord Yu's father.] Still more Xia remnants would probably survive as Yu-guo, Ji-guo and Tang-guo statelets in Shenxi/Shanxi provinces till Zhou Dynasty time period.

Zeng Guangdong, at regenerating-universe.org/Chain_of_DNA.htm, expounded his family's 5000 years old unbroken chain of DNA. Zeng stated that "the name of our clan, Zeng, may be traced to the time when Emperor [overlord] Shao Kang of Xia Dynasty created his second son Prince Qu Lie [as] the ruler of the State of Zeng ... about 1850 B.C.E. ... In the 6th year of Duke Siang [lord or Marquis Siang: common mistake in attributing clan title of gong to duke instead of grandpa] of the State of Lu, ... 567 BC... the Zeng State was plundered and destroyed by the State of Ju. The Prince of Zeng named Wu fled to the State of Lu and remained there in the service of Lu. He dropped the [ear] part (which denotes the domain) from our surname Zeng. This was the beginning of our surname becoming Zeng without the domain in the script, and it remains ever since. Four generations from Wu came Xi alias Dian ... and the 5th was the "Sage of Source", namely Zengcius or Zeng San [Zeng-zi]. Both father and son were students of Confucius, thus our family shines ever since ... " Zeng validated his clan history via excavation in 1978 of a tomb belonging to the Marquis Zeng-Yi-hou "who was buried in 433 B.C.E. at the old site of the State of Zeng in Hu Bei [Hebei] Province."

The lineage of history is cited repeatedly in China's 24 Histories. Shang Dynasty itself was made into the principality of Song by the succeeding Zhou Dynasty (1121 - 256 BC). Confucius at one time returned to his ancestral Song Statelet and spent considerable time studying the Shang "Li" [ritual or formality or system], which continued on in Song long after Shang's demise. (Some scholar, like Wei Chu-hsien and Wang Guowei, pointed to the existance of Song before Shang times and claimed that Song or Shang, pronounced in similar tone, could have meant for the same people.)


Xia Dynasty

The Xia Dynasty (about 2207-1766 BC) has been called the first dynasty. It was established by Qi(3), the son of Lord Yu. Lord Yu was the person famous for being the man who mastered the floods. Qi3 was born by a Tu-shan-shi woman, but Yu the Great dared not enter his home to see his new-born son while he was under Lord Shun's order to quell the flooding.

The name 'Xia', alternatively speaking, came from the title of Count Xia that Lord Yu received from Lord Yao as conferral of land in Yangdi. Yangdi or Yangcheng could be in Shanxi Prov or in Henan prov. In today's Dengfeng Municipality of Henan Prov, to the centerfold south of both Luoyang and Zhengzhou and further to the south of Dengfeng, there would be a Yu-zhou city, with Lord Yu's name inscribed. Scholar Liu Qiyu pointed out that it was not Lord Yu but Lord Yu's son Qi who would make Xia capital in Henan Prov after crossing the Yellow River to defeat the You-hu-shi Dong-yi people at Gan (i.e., today's Zhenzhou of Henan prov). Compromising theory would be to point out that 'yang' also meant for 'tang' in ancient times, and hence Yangcheng or Yangdi would be still located north of the Yellow River, somewhere in southern Shanxi Prov. Tian Changwu, the editor of "Hua Xia Civilization" anthology, compromised the issue of Lord Yu's point of origin by stating that Xia people might have two tribes, with i) father Gun developing in southern Shanxi Prov where they were previously subordinate to Lord Yao and ii) the son Lord Yu developing in western Henan Prov by means of an alliance with Lord Zhuanxu's tribe. Lord Yu, per Tian Changwu, adopted 'xuan yu' (snakeheaded fish, i.e., black fish) as the totem and developed in today's Dengfeng-Yuxian areas of western Henan Prov while his father Gun continued with the dragon totem. Tian Changwu further stated that Lord Yu's tribe would later absorb his father's native Xia people in southern Shanxi Prov. (The character 'Gun' was a combination of two words: black and fish. Senior scholar Wei Chu-Hsien pointed out that ancient Gun legends in "Shan Hai Jing" implied a possible migration of Gun people to American continents since Gun's body, after his execution death on feather mountain, turned into 'huang xiong' [American Brown Bear] in the water. More about Wei Chu-Hsien's research into ancient Chinese linkage to America is temporarily uploaded to ming.htm page) Shi Ji", Lord Yu, after mourning Lord Shun for three years, said goodbye to Lord Shun's son (Shangjun) and left Yangcheng for Pingyang. Vassals deserted Shangjun for Lord Yu. Lord Yu hence proclaimed the statelet of 'Xia-hou' and adopted the last name of 'Si4'. (Alternative surname and clan name records stated that it was Lord Yao who had confirmed the surnames onto his ministers including Yu [Xia ancestor], Xie [Shang ancestor], and Houji [Zhou ancestor] etc.)

Ten years later, Lord Yu died in Kuaiji (Shaoxing, Zhejiang Prov), near the mouth of the Yangtze Delta. Yi(4), a successor designated by Lord Yü, was given the job as an overlord. After three years of mourning, Yi(4) gave the post to Qi(3), the son of Lord Yu. Yi4 left for south of Songshan (often inter-exchangeable to the Chong character) Mountain of Henan Prov. [Note that ancient classics, i.e., Bamboo Annals, claimed that Qi(3) killed Yi(4).] When the Dong-yi tribes disobeyed Qi(3), Qi sent armies to defeat You-hu-shi clan at Gan (Zhenzhou of Henan Prov, but do note that ancient Gan-shui was closer to Luoyang of Henan Prov) and hence solidified Xia Dynasty rule.

Scholar Luo Xianglin claimed that Xia people had asserted control over the rest of people via two inventions: copper and citadel. Luo Xianglin cited ancient book "Yue [Yue principality] Jue [splendid] Shu [book]" [more likely meaning "Yue [Yue principality] Jue [extinct records] Shu [book]" per Wei Chu-hsien] in stating that in ancient times, Xuanyuan-shi, Shenong-shi & Hexu-shi utilized stone as weapon; Lord Huangdi utilized Jade as weapon; and in Xia times, Lord Yu utilized copper as weapon, hence piercing the Longmen [dragaon gate] Gorge of the Yellow River. ("Yue Jue Shu" distinction between Xuan-yuan-shi and Lord Huangdi also verified a possibility that Xuan-yuan-shi and Lord Huangdi were not the same person.) Luo Xianglin cited ancient books "Luu Shi Chun Qiu", "Tai Ping Yu Lan", "Huai Nan Zi" & "Wu Yue Chun Qiu" in stating that Gun, i.e., Lord Yu's father, first built a castle with a wall as high as nine 'ren' [1 'ren' being equivalent to 7 or 8 Chinese feet].

Hua/Xia Origin & Developments
As scholar Liu Qiyu pointed out, 'hua' and 'xia', pronounced the same way as [hwer] in Yangtze Delta dialects, would mean for the group of people dwelling to the north of the ancient South Yellow River Bend and to the east of the ancient West Yellow River Bend.

(Beware of morphology extrapolation of what I cited here as to the pronunciation of 'hua' and 'xia', i.e., common errors among non-Chinese enthusiats for Chinese history, with one such fallacy of equating 'hua' [slippery] to 'hua' [flowery] seen at http://encyclopedia.lockergnome.com/s/b/Huaguo. The Chinese character 'hua', similarly, was abused by non-Chinese enthusiats for Chinese history. Should Southern Liang Dynasty [AD 502-557], in inscriptions on Liang chih-kung-t'u, fail to speculate more on the "Hua-guo" [Avar or Hephthalites] other than a claim that it was possibly a country founded by the descendants of a Western Territory chieftan called "San-hua" [three slippery] who followed General Ban Yong of Han Dynasty in campaigns, then who are you to claim that this 'Hua' [slippery] was the same as China's Hua [flowery] or Zhou Dynasty's vassal "hua-guo"? )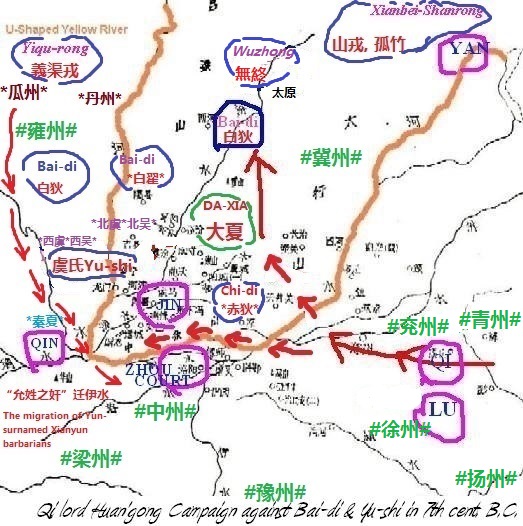 Ancient West Yellow River Bend is the same as today's East Yellow River Bend. Ancient Yellow River Bend did not equate to today's inverse U-shaped course with the North Bend lying inside Inner Mongolia Autonomous Region, but the U-shaped Bend with South Bend in southern Shanxi Prov and then a south-to-north turn in Hebei Province for exit into the sea.

Liu Qiyu's 1982 dissertation, on basis of "Gan Shi" (i.e., Oath of War at Gan) in "Shang Shu" (i.e., Remotely Ancient Histories), proposed the opposite movement of the Xia people, i.e., that the Xia people, the direct descendants of Huangdi the Yellow Overlord with dragon totem, originally dwelled in southern Shanxi Province and then expanded eastward and southward, across the South Bend, into today's Henan Province: Xia people, under Qi (Lord Yu's son), defeated the You-hu-shi Dong-yi people at the Battle of Gan, built cities and capital in today's Henan Prov, endured power struggles with Dong-yi people [led by Hou-yi and Han-zhuo], and stayed in Henan Prov for hundreds of years till Shang-tang's group of Dong-yi people expelled them. Liu Qiyu stated, on basis of the craftsmanship on potteries, that the Xia people's developments could be embodied by three stages of evolutions, i.e., Taosi (2400-1800 BC) of southwestern Shanxi Prov, Dongxiafeng (2200-1700 BC) of southeastern Shanxi Prov, and Erlitou Culture (1900-1500 BC) in Yanshi of Henan Prov. Liu Qiyu also noted that copper utensils were both discovered in Dongxiafeng and Yanshi Erlitou, stating that Erlitou Culture, dated the 3rd phase of Erlitou (Yanshi, Henan Prov), must have been under Xia people who in turn had received inputs from early cultures in Shanxi-Henan provinces. Liu Qiyu further pointed out that by the 4th phase, the Yanshi excavations pointed to the dilapidation of Xia palaces in this area as a result of attacks by Shang-tang Dong-yi people. Liu Qiyu always upheld the theory that Qi, Lord Yu's son, had his capital established at Xunyi, i.e., today's Yanshi of Henan Prov and the seat of Erlitou Culture. Liu Qiyu, to rebut the viewpoint that phases III & IV of Erlitou might belong to early Shang people, stated that it was the opposite way around, that is, the Xia people of III & IV phases of Erlitou influenced the Erligang 'shengwen' (i.e., jormon) potteries in Zhengzhou of Henan Prov. (See Stunning capital [Erlitou] of Xia Dynasty unearthed for details on the ongoing excavations since 1959.)


Chronology of Archaeological Discoveries (see prehistory.htm):


                                       ---------------------------------------------------------
                                          Yangshao Culture (4000-3000 BC)
                                       ---------------------------------------------------------

                     Banpo Type Type --> Dongzhuangcun Type --> Miaodigou Type --...--> Xiwangcun Type

       --------------------------------------------------------             --------------------------------------------------------------
        Miaodigou Culture II (3000-2500 BC)                 Longshan Culture Taosi Type (2500-1900 BC)
       --------------------------------------------------------             -------------------------------------------------------------

           Early Stage --> Middle Stage --> Late Stage                          Early Stage --> Middle Stage --> Late Stage

                                                                                           Taosi (2400-1800 BC)                     Dongxiafeng Type (2200-1700 BC)     

                                       ---------------------------------------------------------
                                                         Erlitou Culture
                                       ---------------------------------------------------------

                    Dongxiafeng Type Of Erlitou Culture (2200-1700 BC)         Yanshi Type of Erlitou Culture (1900-1500 BC)




There is no dispute as to Xia people's final demise in Henan Prov. Liu Qiyu validated the demise of Xia Dynasty in Henan Prov by citing the ancient statement that "Xia Dynasty ended when the Yi-shui and Luo-shui rivers ran dry".

After Shang Dynasty overthrew Xia, remnant Xia people fled northward and westward, and majority of them returned to their ancestral home in southern Shanxi Prov. (Wang Guowei speculated that some of those Xia people who fled northward and westward would become the Yuezhi (?) in the west and the Huns in the north. Note that Wang Guowei's speculation as to Yuezhi would throw the discussion into an ethnicity and race dispute. It is understandable that Wang Guowei might have blundered in early 20th century since Loulan mummies were not known at that time. I had expounded the You-yu-shi vs Yuezhi fallacy at hun.htm section and pointed out that You-yu-shi clan had continued on in Shenxi area till Qi Lord Huan'gong westward campaign against Bai-di barbarians in 651 BC.)

Scholar Luo Xianglin's Assertions
Scholar Luo Xianglin, in "History of Chinese Nationalities" (Chinese Culture Publishing Enterprise Co, Taipei, Taiwang, May 1953 edition), stated that ancient China possessed five tribal groups: Xia, Qiang, Di[1], Yi, and Man[2].

Per Luo Xianglin, Xia people first originated in Mt Minshan and upperstream River Min-jiang areas of Sichuan-Gansu provincial borderline. Xia people then split into two groups, with one going north to reach Wei-shui River and upperstream Han-shui River of Shenxi Prov and then east to Shanxi Prov by crossing the Yellow River.

The second group, per Luo Xianglin, went south to populate southern Chinese provinces as the 'Yue' people. Luo Xianglin's linking Yue people to Xia people was based on the common lexicon 'yue' which meant for excavated ancient "stone axe".

Xia Land = Zhong Guo (Central Statelet)
The 'Xia' people, in another sense, would also imply a more restrictive meaning for the people who dwelled in the land of Xi-rong (the Western Rong nomads) or Xi Yi (Western Aliens) or Xi Qiang (Western Qiang). Lord Yu was born in a place called 'Shiniu' (ancient Chang-mang statelet, between Sichuan, Henan and Shenxi provinces). Scholar Liu Qiyu tackled the issue of 'xi' or west. His validations pointed to the land of 'he qu' (i.e., the inflexion point of the Yellow River Bends) as the 'land of the west', i.e, later land between Qin and Jinn principalities. He also validated the ancient Chinese prefecture of 'ji-zhou' as equivalent to the ancient term 'zhong-guo' for China, and listed multiple ancient classics to lock down the land of original China as being the domain of southern Shanxi Prov. (Liu Qiyu pointed out that original places for Taiyuan and Jinyang etc would be in southern Shanxi Province, and that those cities did not get appropriated to northern Shanxi Prov until after Jinn Lord Daogong quelled various 'Di2' barbarian statelets in the north. Liu Qiyu further stated that after the split of Jinn into Haan-Zhao-Wei principalities, southernmost Wei statelet still got the privilege to be called Jinn due to the fact that Jinn historically inherited the ancient Xia land that was termed 'ji-zhou' the Ji4 prefecture or 'zhong-guo' the central statelet.)

Ancient classics, like "Zhan Guo Ce", "Shuo Wen", "Han Shu", paraphrased 'Xia' as meaning the central statelet. "Zhuang-zi", in the section on "Tian Di Bian" (i.e., article on heaven and earth), mentioned a dialogue between Zhunmang and Yuanfeng in regards to Zhuangmang's sailing into the East Sea and polarized 'zhongguo' (central statelet) and 'si hai' (four seas). Xu Hao, in comments on "Shuo Wen", stated that Yi & Di barbarians began to invade China at the times of Xia people and that then Chinese were hence named Xia-ren or Xia people. Liu Qiyu listed similar parallel antagonism of 'ji-zhou' and 'si hai' in "Chu Ci" (Chu Principality Poems) and "Huai Nan Zi" to validate the exact location of the land of 'Xia' as equivalent to ancient 'ji-zhou' prefecture, i.e., southern Shanxi Prov. Similarly, Liu Qiyu cited similar parallel antagonism of 'zhongguo' (central statelet) versus 'si yi' (four groups of barbarians) in "Zuo Zhuan" for same sense interpretation. (Note that Scholar Wang Zhonghan cited "Guan-zi" in stating that it would be around the middle of Warring States time period that Qi Principality editors adopted the terms of four barbarians as might have existed at the time of Guan-zi [Guan Zhong] of Spring & Autumn time period of Eastern Zhou Dynasty.)

Liu Qiyu pointed out that after the demise of Xia, whoever stayed in Shanxi/Shenxi provinces continued to call themselves 'Xia' people. First Zhou King Wenwang eulogized the eastward flowing of Feng-shui River to Lord Yu's accomplishment, and numerous Zhou Dynasty records stated that they were descendants of Xia Dynasty founder Lord Yu. Wei Principality, who inherited southermost Jinn land of southern Shanxi Prov, described themselves as "riding in Xia-chariots" and claiming to be "Xia King". A Qin Principality official also denoted himself as Xia-zi (i.e., son of Xia people) because his mother was a Qin-ren (i.e., Qin people), i.e., self-designated Xia people.

Xia Dynasty's Totem - Dragon
Scholar Gao Wei pointed out that the colored Pottery from Taosi Excavations of the Longshan Culture, dated 2400-2500 B.C.E. approx, had shown a winding dragon (i.e., two golden-ring Bungarus snakes, with one snake containing the medicinal herbs for the treatment of a wounded snake, i.e., the grass knot which was wrongly taken as the Shucha-shaped tongue per Wei Wencheng who cited Yi Yuan [alien garden], Shennong Bencao Jing, and Bao Pu Zi etc for substantiation). The male snake's head was in the outer ring, the body inward rolling, the tail in the bottom of the plate, while the female snake had the tail intersecting with the male one in the center of the bottom. Almost all luxurious Taosi excavations in southern Shanxi Prov had produced a pottery with the dragon [or snake] totem. In Wei Wencheng's opinions, the ancient Chinese eulogized the snakes' pattern as a form of the marriage celebration, or a form of perpetuity of marriage with husband and wife buried together.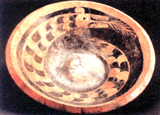 This would point to this place of excavation (i.e., southern Shanxi Prov) as the original site of the early Xia people.

The Xia Culture, having interactions with the bird-totem Dong-yi people to the southeast, had posed an academic challenge as to the nature of the ancient Chinese ethnicity. Consensus would be to treat the Longshan Culture in today's Shanxi and western Henan as equivalent to Xia Dynasty or at least 'xian xia' [i.e., Anterior Xia Dynasty]. The Xia people, who later moved from Shanxi to Henan Prov and founded the dynasty of Xia, certainly brought with them the important dragon totem, a mark that would also be observed among the Huns of Mongolia and the Tungus of Manchuria for the thousands of years to come. (Chinese classics had mentioned two dragon-related clans, i.e., the Huan-long-shi clan during Lord Shun's reign and the Yu-long-shi clan during Xia Dynasty. Here, 'huan' meant for raising or husbandry, 'yu4' meant for driving or controlling, while 'long' meant for dragon. The dragon-totem Xia people were overthrown by the bird-totem [i.e., phoenix] Yi [misnomer Dong-yi] people, i.e., the Shang people; however, the bird-totem Shang people, after a defeat in the hands of the Zhou people, could have fled to Manchuria where they had historical connections with the Tungus people. The Dragon totem, in combination with the phoenix, would become China's national symbols.)

The Xia people hence was taken as the original Mongoloid ethnic Chinese whose name was carried on for the next 4500 years as 'hua', 'xia' or 'huaxia'. To clarify the nature of the Xia people further, I will cite Prof Wei Chu-Hsien's interpretaion of ancient classics "Shi-zi" (approx 338 B.C.E. works) in authenticating the ethnicity of Chinese in the Xia land against the barbarians in four directions. Both "Shi-zi" and "Shan Hai Jing" stated that there were Guan-xiong-guo in the south, Chang-gu-guo (Chang-gong? long arm) in the west, Shen-mu-guo (deep eye socket) in the north, and the eastern and northeaster statelets under Yuhu and Yujing [east-sea and north-sea seagods in the east and northeast per "Shan Hai Jing"]. Here, as a side note, I will, once and for all, settle the issues in regards to Huangdi or the Yellow Overlord, i.e., i) the semantic error in translating the overlord for 'di4' into emperor; ii) the racial supremacist appropriation in attaching the Caucasian tag to Huangdi. The "Shi-zi" and "Shan Hai Jing" records of the deep eye socket people to the north of Huangdi was a corrobaration that the Huangdi people were not of deep-socket eyes. (Shi-zi was the teacher of Qin Reformer Shang Yang, and he went into hiding in today's Sichuan Province and completed the classics Shi-zi after Shang Yang was executed by Qin King Huiwenwang. As to ethnicity of the 'Rong' people, I had expounded the ethnic nature of the various Rong people in the hun.htm section, cleared the dispute in regards to the Rongs, and proven that the Rong people, being mainly the Sino-Tibetan speaking Qiangic people, shared the same blood-line with the Xia Chinese but differred in 'Culture' such as cuisine, clothing, money and language.)

'Dong-yi' (Eastern Alien) & 'Xi-yi' (Western Alien)
History annals claim that Lord Shun was a Yi (not misnomer Dong-yi) and that Lord Yu was a Xi-yi. This could be interpreted as an ancient conventional way of 'birthplace naming'. (Sima Qian thought that Lord Yu was born in today's Yuxian County, Henan Province, but other ancient historians had claimed that Lord Yü came from the land of the Western Rong or Western Qiang tribe as Lord Yü was also named 'Rong-yu'. At the very beginning, there was no 'east' connotation to the Yi people as the people living in the eastern Chinese coast, i.e., the offsprings from the two clans of Tai-hao-shi and Shao-hao-shi, were categorically called by 'Yi', a word that semantically meant the people carrying bows, not to do with the later denotation as the 'Eastern Barbarians". During Zhou Dynasty, as a result of confrontation between the Zhou people who were from the west, and the remnant Shang people who were the natives dwelling in the middle China and along the eastern coast, the records began to carry passages after passages of fighting between the pretentious 'Central Kingdom' Zhou people and the so-called barbarians (i.e., rebels) in the originally Shang Dynasty land to the east.)

For thousands of years, the Chinese used to claim the ancestry place as their point of origin. This applies to the Hakka people who, having dwelled in southern China for over one thousand year, still claimed northern Chinese prefectures as their point of origin. As a result of ancient Chinese's ancestor worshipping, the Chinese clans present a unique way of identification of surnames and Gene-tree Y-chromosome. Should we interpret 'Yi' & 'Xi-yi' in this perspective, then there would be no dispute as to Lord Shun and Lord Yu sharing the same lineage and heritage as Huangdi the Yellow Lord even though Lord Shun was a Yi and that Lord Yu was a Xi-yi.

The Appropriation of Xia Name
On the West Yellow River Bend, there was the ancient Xiazhou Prefecture which still bears the ancient name of 'Xia'. Today, it is called the 'Ning-xia Muslim Autonomous Region', with the 'xia' embedded inside. A city by the name of Lingwu still existed close to Ningxia's provincial capital, Yingchuan. There were numerous Xia statelets in the Chinese history. The Huns at one time set up a kingdom called 'Xia', and the Tanguts proclaimed their 'Xixia' or Western Xia Dynasty as well. Xia [AD 407-431], set up by Helian Bobo of Tie-fu Huns, had derived its name from the fact that the Huns were recorded to be of Xia-hou origin, namely, Xia Dynasty descendants. Helian Bobo, in his eulogy about the founding of Xia, traced his ancestors to Da Yu or Lord Yu. The Tanguts, who were of Tuoba & Qiangic heritage, established their Western Xia in about the same place (around West and north Yellow River Bends) and in the same name. From this perspective, we could say that the 'Hua' or 'Xia' designation would be more of the barbarian nature in the west than the later Shang Chinese who belonged to the 'Yi' people in the east.

The Xia Chinese vs the Huns, and the Qiangic Tibetans vs the Tokharai Yuezhi
Above, we mentioned Wang Guowei's possible blunder in attributing the remnants of the Xia people to the Huns in the north and the Yuezhi in the west. See Wang Guowei's theory of invaders coming from the East while traders from the West for understanding the nature of the nine Zhaowu clans of the Yuezhi. More detailed accounts about Yuezhi would come after Zhang Qian's visit to Central Asia, unfortunately. "Gua Di Zhi" stated that the Yuezhi country included ancient Liangzhou, Ganzhou, Suzhou, Yanzhou and Shazhou, i.e., today's Gansu and Shenxi Provinces. Hence there was the speculation that in the West Yellow River Bend area could also be found the Yuezhi people, which might not be true. The place names like Liangzhou, Ganzhou, Suzhou, Yanzhou and Shazhou were all products of late Han Dynasty. "Gua Di Zhi" was a much later book that could have error in extrapolating the presence of Yuezhi beyond the Western Corridor. Further, some historian [maybe just me, after hiccup in my thoughts], who believed the Yuezhi country more likely centered around Turpan [Urumqi] as evidenced by Lake Koko Nor [Lop Nur, i.e., Luobupo] mummies, had expressed doubts about Sima Qian's "Shi Ji" as far as the sentence in regards to Yuezhi's original dwelling place is concerned: Sima Qian claimed that Yuezhi, before the migration, lived between Qilian Mountain and Dunhuang hill, and that satellite Yuezhi statelets, after migrating to Central Asia, still adopted as their clan name the ancient city of 'Zhaowu' [??? said to be today's Zhaowu-cun Village in Linze-xian (bordering the lake) County, which was renamed in Jinn Emperor Wudi's era from Zhaowu-xian County under the Zhangye-jun Commandary that was set up in 111 B.C.E].

http://www.taklamakan.org/allied_comm/commonv-1-8.html carried an article by Takla entitled "The Origins of Relations Between Tibet and Other Countries in Central Asia", stating that "according to the researches of Sir Aurel Stein [i.e., the arch thief of China's Dunhuang Grotto treasures] on the origins of the people of Khotan, most were the descendants of the Aryans. They also had in them Turkic and Tibetan blood, though the Tibetan blood was more pronounced. He discovered ancient documents at a place called Nye-yar in Khotan and he has stated that the script of these documents contained no Pali, Arabic (Muslim) or Turkic terminology. All were Tibetan terms and phrases." P.T. Takla stated further that "according to Wu Hriu(2), the facial features of the people of Khotan were dissimilar to those of the rest of the Horpa nomads of Drugu (Uighurs belonging to the Turkic people) and similar, to an extent, to the Chinese. Khotan in the north-west was called Li-yul by the ancient Tibetans. Since Khotan was territorially contiguous with Tibet, there are reasons to believe that the inhabitants of Khotan had originated from Tibet."

Tibetans, clearly the descendants of Sino-Tibetan-speaking Qiangic SanMiao people, had their influences reaching the southern Chinese Turkistan in addition to the He-xi Corridor [i.e., the corridor to the west of the western Yellow River Bend].

Concluding this episode, my unchanged belief is still that the Sino-Tibetan-speaking Qiangic SanMiao people first reached the He-xi Corridor of Gansu Prov 4000 years ago and onward to the Khotan area of southern Chinese Turkistan. The Tokharai, possibly related to the Indo-Scythians, reached the areas of Lake Koko Nor and later Tunhuang Grotto thereafter. In the 3rd century BC, the Hun Chanyu ordered that his rightside virtuous king attack the Yuezhi as punishment for disturbing peace at the Chinese border. Majority of the Yuezhi fled to the region of Amu Daria river, and some fled across the mountains to live among the Qiangic people in the south. Successors of the Huns, led by Helian Bobo of the Tie-fu Huns, established a Xia Dynasty lasting through AD 407-431. Helian Bobo's acknowledgement and tracing of his ancestry in a common origin as the Chinese clearly spelled out the fact that it was the Mongoloid who had first raided to the west rather than the other way around.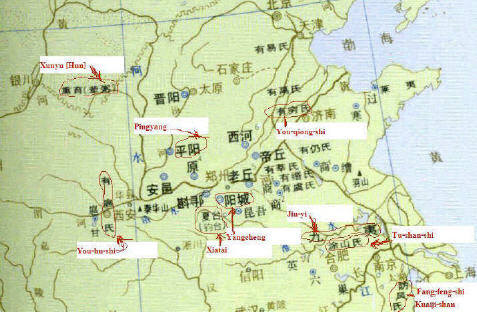 Lord Yu's Domain
Scholar Chen Shaoli mentioned that it might not be a coincident that Henan's Yuxian County had possessed an ancient village called 'wang-cheng-gang', i.e., the hill of a king's castle.

However, Lord Yu was not restricted to the Yellow River Bend, and he was recorded to have travelled across the country. Sima Qian's Shi Ji, in the section on Xia Dynasty, systematically described the ancient nine Chinese prefectures in details, covering the grade or quality of soil, the minerals, animals, plants and agricultural products, the rivers and mountains, and the tributes from the local prefecture to the central court (i.e., Chinese dynasties). The famous book, Shan Hai Jing, i.e., the Records of Mountains and Seas, was said to be the work of Lord Yu after he spent 13 years surveying the nation.

Scholar Hu Yueqian expounded on the marriage of Yu with a Tu-shan-shi woman. Hu Yueqian speculated that Lord Yu must have lived close enough to Tu-shan Mountain, somewhere to the northeast of today's Shouchun or Huaiyuan County, Anhui Prov and on the east bank of Huai-shui River. Zuo Zhuan stated that tens of thousands of 'guo' or stateletes (tribes) had come to Mt. Tu-shan to pay respect to Yu after the flooding was successfully controled. This pointed to the fact that Lord Yu did have his dwelling to the south of the Yellow River, something that would conflict with Liu Qiyu's assertion that it would be Lord Yu's son who would later expand into Henan Prov. (Hu Yueqian validated the Xia people's influence in Anhui Prov by means of an alliance with the Tu-shan-shi tribe by citing the fact that last Xia King Jie, with his queen Meixi [a You-shi-shi woman], had fled to the You-chao-hu Lake in Anhui Prov for seeking asylum while the remnant Xia nobles, forbidden from returning to the You-chao or Caohu Lake, were relocated to Ruzhou [Jiaxian County of today's Henan Prov].)

In Today's Shaoxing, Zhejiang Province, namely, the ancient Kuaiji Commandary, there is a monument in remembrance of Lord Yu. Kuaijishan Mountain would be where Yu convened the vassals. Lord Yu was buried on Kuaijishan Mountain when he died. There was an ancient claim that during Song Dynasty, the Kuaiji people, when rebuilding the Yu Pilgrimage, dug up some one hundred pieces of jade articles ('gui') that were considered instruments of power conferral for vassals.

Sima Qian, in comments about the length of the Min-Yue & Dong-Yue Statelets (see Vietnamese & Southerners section for details), said the 'Yue' People must have inherited Lord Yu's spirits. One claim would put all Yue people, i.e., the Bai Yue or Hundred Yue people, in the same lineage as Lord Yu's descendants. Min-Yue & Dong-Yue were related to the so-called 'Gu-yue' or Ancient Yue Statelet located in Hangzhou, Zhejiang Prov. After Han Emperor Wudi defeated Min-Yue of Fuzhou and Dong-Ou or Eastern Ou (Dong-Yue) of Wenzhou, there existed a remnant statelet called Xi-Ou or Western Ou.

Also to be noted would be the fact that the early Chinese history recorded that the people from the ancient Wa Japan claimed that they were the descendants of 'Tai Bo' and called themselves by the ancient title of 'Da Fu'. Tai Bo wanted to yield the succession to his brother because the ancient mandate said that the son of Tai Bo's brother (Ji Li) would be the future lord of the Zhou people. Ji Li's son would be Ji Chang, i.e., Zhou King Wenwang posthumously. The ancient books also recorded that Wa Japan must be situated to the east of Kuaiji Commandary. Chen Shou's San Guo Zhi recorded that the rice culture people living on the western coast of Japan around the 2nd-3rd centuries were recorded to have tattoos over their body, in a similar fashion to the Zhejiang people in the Yantze Delta where the descendants of King Shaokang of Xia Dynasty (21-16th c. BC) had lived. (My speculation is that the ancient Wa Japanese with the Tai-Bo lineage had been wiped out or assimilated into the later immigrants from Korea. An Zhimin, at carleton.ca/~bgordon/Rice/papers/zhimin84.htm , wrote about "EFFECT OF PREHISTORIC CULTURES OF THE LOWER YANGTZE RIVER ON ANCIENT JAPAN", with speculation about pre-Han-Dynasty contacts.)

Xia Chronology
Sima Qian's "Shi Ji" and the Bamboo Annals both cited the traditional saying that Xia Dynasty, with and without kingship, had lasted 471 years. Ban Gu's "Han Shu" stated that Xia-hou-shi, with 17 kings, had lasted 432 years. Scholar Huang Shilin cited the recent excavation of a Western Han Dynasty tomb in Mt Yinqueshan area, Linyi, Shandong and the discovery of ancient classics "Liu Tao" in rebutting the traditional view. "Liu Tao" historically claimed that Xia Dynasty possessed 31 kings from Yu to Jie. Scholar Huang Shilin hence concurred with the Bamboo Annals' statement that Xia Dynasty possessed more years than Shang Dynasty though it recorded only 17 kings. By setting the Shang-tang overthrow of Xia King Jie in the 18th cent BC, Huang Shilin speculated that the start of Xia would be somewhere like the 24th cent B.C.E. by adding up 629 years of the Shang Dynasty duration. ( The way to compromise different count of years, in my opinion, would probably be lying in the inclusion of anterior years or not. Scholar Kwang-chih Chang proposed in 1980s an emphasis on the horizontal diagnosis of Xia-Shang-Zhou people instead of vertical, which was to acknowledge the existence of a certain 'Anterior Xia', 'Anterior Shang' and 'Anterior Zhou'. Scholar Hu Yueqian proposed that the Xia studies must be built upon Shang studies because of the close relation between the two groups of people. )


Yu's son, Qi(3), founded Xia Dynasty. After Qi's death, his son, Taikang, succeeded him. Taikang made Zhenxun as his capital. However, Taikang was fond of hunting and did not take care of business. When Taikang went to south of Luo River for hunting, the tribal leader of the Yi people, Houyi (You-qiong-shi clan, a legendary figure famous for his long arms and shooting down the suns), staged a coup d'etat and lined up his forces on the northern bank of Luo River to force Taikang into exile. Five Taikang brothers and their mother made a song on the north bank of Luo, calling for the return of Taikang. Houyi made Taikang's brother (Zhongkang) a king. But Houyi, after Zhongkang's death, would stage another coup to overthrow Zhongkang's son, Xiang. Xiang fled to Shangqiu area for asylum under Zhen-guan & Zhen-xun tribes. Later, a general under Houyi, Hanzhuo, would usurp power by killing Houyi and usurped You-qiong-shi throne. Hanzhuo took over Houyi's woman and born two sons who were renowned for their strength. To prevent the Xia or Huaxia people from claiming power again, Hanzhuo would send one of his sons to kill Xiang by routing Zhen-guan & Zhen-xun tribes. Xiang's woman, of You-ren-guo [? You-nai-shi) clan, fled to her home and born Shaokang. Shaokang [l. 2118-2068 per Chu Bosi] would survive by escaping to the You-yu-shi tribe where the descendants of Lord Shun (another Yi tribe) lived. A Xia remnant minister, Mi, fled to You-ge-shi clan, and he organized forces and finally defeated Hanzhuo. Mi erected Shankang as the lord. Shaokang's son, Zhu, would first invent the shields to counter the sharp arrows from the Yi people who were renowned for hunting and shooting. Zhu's son would be Hui (Fen), Hui's son would be Mang, Mang's son would be Xie, Xie's son would be Buxiang, Buxiang's brother would be Jiong, and Jiong's son would be Jin. After Jin would be Buxiang's brother, Kongjia. Kongjia would be fond of 'gui shen' (ghosts and gods) and indulged himself lasciviously. Xia-hou-shi virtues declined, and vassals challenged the statelet. Kongjia's son would be Gao, Gao's son would be Fa, and Fa's son would be Lügui (Jie).

Xia Dynasty
21 - 16th cent BC
Qi
Taikang
Zhongkang
Xiang
Shaokang
Di Zhu
Di Kui (Fen)
Di Mang
Di Xie
Di Buxiang
Di Jiong
Di Jin
Di Kongjia
Di Gao
Di Fa
Di Lügui (Jie)


The above historical events pointed to the eastern Henan Prov and western Shandong Prov, the traditional land of the Yi people, as the theater of struggles between the Xia people and the Yi (misnomer Dong-yi) people. Last Xia King Jie himself was driven to the Chao-hu Lake of Anhui Prov, to the southeast of Henan Prov.

After four hundreds of years, Xia Dynasty ended in 1766 B.C.E. in the hands of Jie who was said to have mistreated his people. The person who overthrew Jie would be called Shang-Tang [l. 1824-1753 B.C.E. per Chu Bosi] , a tribal leader of the Yi people, whose ancestor (Xie, i.e., son of Lord Di-ku) had worked under Lord Yu in controlling the floods. Shang-tang's name was Luu, aka Tianyi.

Likewise, the ancestor of the later Qin Empire served in the same rank as Xie in fighting the floods and hence was conferred the family name of 'Ying', with a water sign as part of the character. Research shows that the ancestors of both Shang and Qin dynasties belonged to the same Yi tribal group.

Jie once called upon Shang-Tang and imprisoned him in the Xiatai prison [located in Yangdi, Henan Prov] during the 42nd year reign, i.e., 1777 B.C.E. per Chu Bosi. Jie then released Shang-Tang. Shang-Tang rallied the Xia vassals, made an oath of war [i.e., "Tang Shi"] at the outskirts of Mingtiao, and defeated Jie during the 53rd year reign of Jie or the 18th year reign of Shang-tang. Shang-tang made Bo his capital. Jie, with his queen Meixi (a You-shi-shi woman), fled across the River to the You-chao-hu Lake in Anhui Prov. 13 years later, i.e., 1753 B.C.E. per Chu Bosi, Shang-tang passed away.

The dynasty name of 'Xia' did not go away. There would ensue a short Hunnic dynasty called Xia, lasting through AD 407-431. The Huns claimed that they were the descendants of the Xiahou (namely, Xia descendants) people, and the Uygurs claimed descendancy from Chunwei, the son of last Xia lord. Sima Qian mentioned that Jie was banished to Henan Province and died there years later. Jie's son took over his father's dowager queen and fled northward to become the ancestor of later Huns on the steppe. (Liu Qiyu pointed out that the Xia people, similar to Huns and Turks, had adopted the ancient 'concubine inheritance system', i.e., the successors of nobles or lords would take over their fathers' concubines and wives instead of forcing those women to be buried with their late husbands.) Still another dynasty would be the later Xixia Kingdom (i.e., Western Xia, AD 1032-1227) led by the Dangxiang (i.e., Tanguts). History recorded that there evolved eight Qiangic tribes by the time of Five Dynasties (AD 907-960), with one tribal group carrying the old Toba name. The Toba Qiangic people claimed that the founder of Xia Dynasty (21-16th c. BC) came from the Western Rong area, namely, the dwelling place of the Qiangs from the time of Lords Yao-Shun-Yu. Danggxiang's Xia could also derive from the title of Duke of Xiazhou Prefecture as conferred by Tang Dynasty's emperor.


Shang Dynasty


According to Sima Qian's Shi Ji, the ancestor of the Shang people was named Xie, a son of Lord Diku. Legend said that Xie was born after his mother, Jiandi (Yousong-shi woman, a statelet located in Yuncheng of Shanxi Prov), swallowed an egg of a black bird (swallow). Lord Yao conferred Xie the post of 'si tu' and the last name of 'Zi'. Lord Shun conferred Xie the land of Shang (later Shangluo County) for aiding Yu in flood control. Fourteen generation descendant would be Tang (Shang-Tang), also named 'Tian Yi' or 'Heavenly Yi'. (During Xia and Shang dynasties, the lords were called Wang or King, but named Di or modern sense overlord or emperor posthumously. Since 'Heaven' was considerd a Di, Shang-Tang was called 'Heavenly Yi'.) The character 'Tang(1)' means purging evils, literally speaking. Limited history records contained another account about the Shang Dynasty ancestors, which claimed that their founder-king, Wang-hai' herded near the Yi-sui River, near today's Peking. (The origin of the Shang Dynasty could be a puzzle as there were 5-6 discourse on where the Shang Dynasty founders came from; however, there was one interesting account pointing to Shang Dynasty founder-king Wang-hai [i.e., King Hai] herding animals in today's Yi-xian land, i.e., somewhere near Peking. This shed light on the origin of the Shang ruling clan as being similar to the Yellow Overlord of the Kalgan area, i.e., someone of nomadic nature and non-agricultural.)

Shang-Tang was conferred the post of fang bo (i.e., leading vassal Count) by the Xia king. At Xia-Shang times, vassals were designated by the character 'fang' (i.e., domain), including Gui-fang (steppe nomads) in the north (? most likely Shanxi Prov), Qiang-fang (Qiangic shephardS) in the west, Ji-fang (Xia remnants) in southern Shanxi Prov, and Ren-fang (human domain) on the Shandong Peninsula in the east. Ancient title for 'Count' might not be of same level as that in Europe and should be higher than marquis in Shang-Zhou times. (Scholar Fu Sinian studied the bronze inscriptions, i.e., jin wen, from Zhou times and concluded that the ancient five rankings of duke, marquis, count, viscount, and baron did not conform with bronze inscriptions or classics such as Shang Shu or Shi Jing. Fu Sinian stated that duke-gong, count-bo, viscount-zi, and baron-nan were originally used within a royal family as rankings; governmentally, 'bo' or count was the leader of a conferred fief while 'hou' or marquis was for denoting the vassal guarding border posts.)

Shang-Tang first campaigned against Ge-bo (Count of Ge). Shang-Tang obtained a minister called Yi Yin (aka Yi Zhi) from You-xin-shi land after paying five [? three per Chu Bosi] visits to him. Shang-tang respectfully called Yi Yin by Ah Heng. When last Xia Dynasty King (Jie) was corrupt and lascivious, a vassal called Kunwu-shi rebelled. Shang-tang first assembled vassals and quelled Kunwu-shi rebellion, and then campaigned against Xia King Jie in the name of 'shang di' (i.e., Lord Highness). Shang-tang defeated Jie at the ruins of You-song (Yuncheng, Shanxi Prov); Jie fled to Mingtiao (ancient Puzhou prefecture) where he was defeated again by Shang-Tang; Shang-Tang continued on to defeat Jie at Sanchun (Dingtao or Jiyin of ancient Caozhou); and Jie fled to You-cao or Caohu Lake of Anhui Prov in the southeast. Ancient classics claimed that Shang-Tang had conducted altogether 11 major campaigns before he took over the overlordship of China. Scholar Luo Xianglin claimed that Shang people had asserted control over the Xia people via advanced weaponry: bows.

Shang Dynasty
16 - 11th cent BC
Ch'ˆng-t'ang (Tang)
Wai Bing
Zhong Ren
T'ai-chia (Tai Jia)
Wu-ling (Ao Ding)
T'ai-kˆng (Tai Geng)
Hsiao-chia (Xiao Jia)
Yung-chi (Yong Ji)
T'ai-wu (Tai Wu)
Chung-ting (Zhong Ding)
Wai-jˆn (Wai Ren)
Tsien-chia (He Dan Jia)
Tsu-yi (Zu Yi)
Tsu-hsin (Zu Xin)
Ch'iang-chia (Ao Jia)
Tsu-ting (Zu Ding)
Nan-kˆng (Nan Geng)
Hu-chia (Yang Jia)
P'an-kˆng (Pan Geng)
Hsiao-hsin (Xiao Xin)
Hsiao-yi (Xiao Yi)
Wu-ting (Wu Ding)
Tsu-kˆng (Zu Geng)
Tsu-chia (Zu Jia)
Lin-hsin (Lin Xin)
K'ang-tin (Geng Ding)
Wu-yi (Wu Yi)
Wˆn-wu-ting (Tai Ding)
Ti-yi (Yi Li))
Di Xin (Xin)


Xia Chinese remnants, in the opinion of Wang Zhonghan, would evolve into Gui-gang [ghost domain] barbarians who were to fight the Shang Dynasty for hundreds of years till being subdued and then acting as a vassal together with Zhou people's ancestor Count Xi-bo. For further discussions on Barbarians & Chinese, please refer to
Shang Dynasty passed the power to brothers mostly. The interesting thing about the overlords (Di4) of Shang Dynasty would be their using the names of 10 Celetial Stems for their given names, including jia, yi, bing, ding, wu, ji, geng, xin, ren, gui.

When Shang-Tang died, his son, Taiding, already died. Taiding's brother, Waibing, was selected. Three years later, Waibing's brother, Zhongren, was enthroned. 4 years later, Yi Yin selected Taiding's son, Taijia, as the 'Di' (overlord). During the third year of Taijia's rule, Yi Yin exiled the lord outside of the capital and took over reign as 'Shang Regent-Protector' for three years. After Taijia repented over his deeds, Yi Yin welcomed the Shang king back to the capital. Yi Yin wrote three sections of 'Taijia Mottos' to praise Taijia's virtues. Yi Yin named Taijia's imperial title as 'Tai Zong' (i.e., grand ancestor). Yi Yin died during the reign of Aoding (Taijia's son), and Shang Dynasty buried Yi Yin at 'Bo' the capital, using the lord rituals.

Alternative records, including "Zhu Shu Ji Nian" [Bamboo Annals], claimed that Taijia killed Yi Yin; however, excavations from Shang Ruins had exhibited a high respect for Yi Yin in the burial. Scholar Li Xueqin, in his dissertation on "Zhu Shu Ji Nan and Xia Dynasty", claimed that Bamboo Annals was biased in descriptions of usurpations & tyrants and might have fabricated historical events to serve the purpose of billegerant Warring States time period, with anti-history stories like Yi Yin's adultery with last Xia Lord Jie's queen Mei-xi or like Yi Yin's exiling Shang King Taijia for 7 years and subsequent Taijia's execution of Yi Yin as revenge. Li Xueqin stated that Shang oracle bones had high compliments for Yi Yin and the Bamboo Annals was deliberately mutating the history to serve the purpose of usurpation. In Li's opinion, the Bamboo Annals' accounts of Xia King Qi's killing Yi or the usurpations of Shun vs Yao & Yu vs Shun should be questioned for its authenticity. However, the truth could be that the Bamboo Annals were correct, whereas the other interpretation, as represented by Confucius-edited books [i.e., the survivor of Qin Shihuangdi's book burning), could be a revision.

After Aoding will be brother Taigeng. Taigeng's son will be Xiaojia. Xiaojia's brother is Yongji. Vassals refused to pay respect to Yongji. Yongji's brother is Taiwu. Taiwu used Yi Yin's son, Yi She, as prime minister. Shang prestige improved, and vassals came to pay respect again. Taiwu was given imperial title as 'Zhong Zong' (i.e., middle ancestor).

Taiwu's son would be Zhongding. Zhongding relocated the capital to Ao (Aocang, Henan Prov). Brother Hedanjia was his prime minister. Zuyi (son of brother Hedanjia) moved to Geng (Gengxiang, Pishi-xian County, Henan Prov). After Lord Zhongding died, brother Wairen was enthroned. After Wairen would be brother Hedanjia. At the time of Lord Hedanjia, Shang Dynasty declined in prestige again. After Hedanjia would be son Zuyi. At the time of Lord Zuyi, Shang Dynasty rose in prestige. After Zuyi would be his son Zuxin. After Zuxin would be brother Aojia. After Aojia would be the son of brother Zuxin, i.e., Zuding. After Zuding would be son of brother Aojia, i.e., Nangeng. After Nangeng would be son of brother Zuding, i.e., Yangjia. At the time of Lord Yangjia, Shang Dynasty declined in prestige once again. Historians commented that Shang declined ever since Lord Zhongding due to the frequent deposing and usurpation of lords among brothers and nephews.

After Yangjia would be brother Pan'geng. Pan'geng crossed the Yellow River to the south and relocated the capital back to Bo (Yanshi, Henan), Shang-Tang's old city. Shang people had relocated their capital five times by then. The Shang Dynasty (1765 B.C.E. - 1134 BC) ruled parts of northern and central China. Shang people had altogether relocated their capital eight times, possibly related to the Yellow River flooding. (Cai Dongfan stated that the Yellow River was first worked on by Lord Yu and eight hundred years after, the Shang people began to experience the flooding again.) The dynasty moved its capitals in history, to modern Loyang, modern Zhengzhou, and finally to Anyang (called Yin at the time) under Pan'geng the 20th king. During the times of Shang-Tang, its capital city was located at Bo, today's Shangqiu, Henan Province. (Bo was the place where Diku, the father of Xie, had dwelled as the capital.)

After Pangeng would be brother Xiaoxin. At the time of Lord Xiaoxin, Shang Dynasty declined in prestige. After Xiaoxin would be brother Xiaoyi.

After Xiaoyi would be son Wuding (1324-1265 B.C.E. ?). Wuding was eager to look for saints to manage the country; Wuding did not talk much for three years; and Wuding located a saint by the name of Fu Sui in the wilderness and made him a prime minister. Shang prestige rose again. Wuding was entitled 'Gao Zong' (i.e., highest ancestor). Wuding's wife would be the famous female warrior of China, Fu Hao, who had led a campaign against ancient Tu-fang barbarians in the north (either on the northern steppe or still in Shanxi Prov. Fuhao, to campaign in the north, must have passed through Ji-fang, i.e., southern Shanxi Prov where Xia remnants dwelled.) Fu Hao was authenticated by the tomb excavation which was a result of a determination and a perception of a female archaeologist that something deep under Shang Ruins in Anyang must be lying. That turns out to be Fu Hao's tomb. Good websites about her would be:

http://www.span.com.au/100women/12.html
http://www.ayyx.com/e-fhm.htm

Interesting about her tomb would be bronze utensils made in Sichuan Province in the west. It shows the kind of close relations Shang people had with people in the perimeter. Also noted by Scholar Zhan Quanyou (The Culture of Nan-zhao & Da-li Statelets, 2002 edition, Sichuan People's Press, Chengdu, Sichuan) would be the fact that ancient Yunnan Prov people could be the sole supplier of tin for the bronze of Shang Dynasty and succeeding dynasties. We simply could not discount the ancient people's knowledge and contacts with each other. (In the section on China & America, we provided scholarly research into the possibility that Shang people might have migrated towards American continents after their defeat in the hands of Zhou Dynasty. Do note that Wei Chu-hsien, who attempted to validate an opposite movement of Yantze River Chinese towards the north and northwest by deciphering the literal meaning of the town of Wuxi [lietrally meaning "no tin"], had claimed that the tin of Shang Chinese came from a hill near Wuxi in Yangtze River mouth [where tin mine was exhausted in 3rd century BC], not from Southwestern China. Wei, who had contributions to the excavation of Liangzhu Culture in 1930s, did not get to know the Sanxingdui bronze culture in Sichuan Prov which apparently served as a venue for the tin of Southwest China to reach the Yellow River.)

After Wuding would be son Zugeng. After Zugeng would be brother Zujia. Zujia was lascivious and Shang declined again. After Zujia would be son Linxin. After Linxin would be brother Gengding. After Gengding would be son Wuyi. Wuyi relocated the capital to the north of the Yellow River; Lord Wuyi was despotic; and Wuyi, while hunting between Yellow River and Wei-shui River, was stricken and killed by lightening for his disdain of the Heaven. After Wuyi would be son Taiding. After Taiding would be son Yili. At the times of Yili, Shang declined. Yili's elder son was called Wei-zi (Qi2) who was not conferred the crown prince status because Wei-zi's mother was not of noble background. (Ancient classics, Suo Ying, claimed that the title of Wei[1] for Wei-zi was the conferred land of Wei[1] for the elder prince.) Junior son of Yili would be Xin, i.e., Lord Zhou4 (Zhouwang).

Cheng-Tang Revolution
Shang-Tang claimed that Lord Highness (Heaven) instructed him to campaign against Xia Lord Jie because of Jie's corruption, lasciviousness and cruelty. Later, Confucius would term it 'Cheng-Tang Revolution' or 'Shang-Tang Revolution', a word that would be used by Dr. Sun Yat-sen in his efforts at overthrowing Manchu rule. With the advice of Yi Yin, Shang-Tang successfully defeated Xia Dynasty and banished the last king of Xia, Jie, to today's Anhui Province. Jie's son would later flee to the northern plains to become ancestors of the Huns. Yi Yin would later live to the age of 100 years and he became mainly responsible for advising four Shang kings.

Pangeng the 20th king moved the capital to Anyang (called Yin at the time). After another eleven kings would come King Zhouwang of Shang Dynasty who finally lost his kingdom to the Zhou people, a tribe from the west, who dwelled in today's Shaanxi or Shenxi Province. The Shang people, unlike earlier Xia people, would be of the origin as the Eastern Yi people. The later Zhou people were said to have migrated to the west of China from the east as well. Qin's ancestor could be traced to Bo Yi under Lord Shun, and Bo Yi assisted Lord Yu in mastering the floods. Shang, Zhou and Qin people are all said to be from the east against the Xia people in the west. The last Shang ruler, King Zhouwang, would be a despotic ruler. He killed one marquis (Jiu Hou) and Jiu Hou's daughter because the queen (Jiu Hou's daughter) was not lewd. Another marquis (Er Hou) was killed when he tried to protect Jiu Hou. Count Xibo (i.e., Ji Chang) sighed about the killings, and hence was imprisoned by Shang King Zhouwang. Shang King Zhouwang would kill Xibo's elder son, Boyikao, and made a dish out of Boyikao's flesh for Xibo to eat. Shang King Zhouwang laughed when Xibo ate it without knowing that it was his son's flesh. Xibo was set free only after Xibo's minister bribed Shang King Zhouwang by presenting a beauty.

The Mandate Of Heaven
Prince Bigan, son of last Shang Lord Zhouwang, would be deposed for trying to admonish Zhouwang into correcting his deeds. When Count Xibo invaded two Shang vassals called the Qiguo Statelet and Mixu Statelet, Zu Yi, a Shang minister, expressed the worry that the 'Mandate Of Heaven' might change. Zhouwang rebutted Zu Yi, saying that the 'Mandate Of Heaven' was with him the minute he was born. After Xibo (Zhou King Wenwang) passed away, Zhou King Wuwang would rally eight hundred Shang vassals on the bank of the Yellow River, Mengjin. The vassals said to Wuwang, "Shang Lord Zhouwang could be campaigned against by now." Wuwang said, "You guys did not know the 'Mandate Of Heaven' yet."

Shang Lord Zhouwang's brother, Wei-zi, would flee the capital. Zhouwang's son, Prince Bigan, seeing the departure of Wei-zi, would try to pursuade Zhouwang again, but was ordered killed by Zhouwang to see whether Bigan's heart had 9 compartments as the saints were said to possess. Zhouwang's uncle, Prince Ji-zi, would pretend to have gone mentally ill, but he was still imprisoned by King Zhouwang still. Confucius eulogized the three ministers of Shang Dynasty as three saints. (Please refer to discussions of the original destination of Ji-zi being none other than the 'Yang-yi' (brightness Yi2) people's land on the Shandong peninsula before a further sea-crossing to either today's southern Manchuria or today's Pyongyang on the Korean peninsula.)

When Shang's chief music ministers, Tai Shi and Shao Shi, fled to Zhou with Shang's ritual instruments, Wuwang said it was time to campaign against Shang Lord Zhouwang. After losing the Battle of Muye, Shang Lord Zhouwang committed suicide by setting his palace (Lutai, i.e., deer platform) on fire and jumping into fire at the time Wuwang of Zhou invaded the Shang capital, Chaoge. Some historians disputed the records about the wars between Shang and Zhou since the dead and defeated would have no chance to let their side of the story be heard. Zhouwang's stories of tyranny and lasciviousness, together with his queen (Da Ji), would be the target of criticism in a popular mythic novel, Feng Shen Bang (List of Conferred Gods). His wife, together with the wife of last Xia Lord Jie in the past and the wife of King Youwang of Western Zhou Dynasty in the future, would be condemned as the "female disater water" that is ironically the immortal topic of all decadent dynasties in China's history.

Wei Chu-Hsien rephrased the Shang-Zhou transition story as follows: Last Shang Lord King Zhouwang campaigned against 'Ren-fang-guo' statelet on Shandong Peninsula. After defeating Ren-fang-guo, Zhouwang led a few soldiers back to the capital of Chaoge for lunar new year celebration. Upon hearing of Zhouwang's return with a light force, Zhou Lord Wuwang marched towards Shang capital within six days and nights and encountered Zhouwang at the outskirts of Muye where Zhou army defeated Shang's drunken soldiers. Shang King Zhouwang committed suicide. Zhou Lord Wuwang made Shang Prince Lufu inherit the Shang heritage and then went back to the west. After Wuwang died, Zhou Duke Zhougong assumed the post of a regent for Zhou King Chengwang. In old Shang capital area, Shang Prince Lufu died. Shang Prince Lufu's son, Prince Wugeng, conspired with the brothers of Zhou Wuwang in rebelling against Zhou Regent Zhougong. Zhougong defeated the rebellion and furthermore campaigned against Shang remnants who were left by Shang Lord Zhouwang on Shandong Peninsula's Ren-fang-guo statelet. Shang remnants hence fled towards two directions, one branch to Taiwan Island and the other branch to North America via the Bering Straits. Those Shang people who arrived in North America stationed two chieftans on the east and west sides of the Bering Straits and conferred onto the two chieftans the titles of east-sea and north-sea kings. The east-sea and north-sea kings would become the gods in revised book "Shan Hai Jing".

Scholar Luo Xianglin claimed that the Zhou people had asserted control over the Shang people via the advanced weaponry of chariots.

Shang & Zhou Relations
Often neglected would be the oracle or divination inscriptions on the bronze utensils left by the Zhou people at Mt Qishan. During the earlier reign of Shang Lord Aoding, the Zhou people were often campaigned against by Shang Dynasty. But later on, Zhou began to submitt to Shang and assist Shang in numerous campaigns against barbarians in Shanxi Prov. Xu Zhuoyun cited Chen Mengjia's research in pointing out that Zhou Taiwang, during Shang Lord Wuyi's reign, relocated to Mt Qishan under the pressure of Doggy Rong; that Zhou lord Jili, during the 34th year reign of Shang King Wuyi, paid pilgrimage to Shang court; that Jili defeated Xiluo-Gui-rong barbarians and captured 20 Di[2] kings the next year on behalf of Shang court but Shang King Wuyi was killed by a lightening around the Wei-shui River; that Jili campaigned against Yanjing-rong but got defeated during the 2nd year reign of Shang King Taiding; that Jili, two years thereafter, defeated Yuwu-rong and received conferral as 'mu shi' (shephard chancellor) from Shang King; that Jili first campaigned against Shihu-rong during the 7th year reign of Shang King Taiding and against Yitu-rong during the 11th year reign; that Jili was killed by Shang King Wending (Taiding) thereafter; and that Zhou people began to attack Shang Dynasty during the 2nd year reign of Shang King Di-yi (Yili). Xu Zhuoyun speculated that Shang King most likely died in the hands of Zhou people rathern than a lightening in a similar coverup as later Zhou King Zhaowang's death on the Huai-shui River as a complication of conflict with southern barbarians. However, Shang-Zhou relationship had improved since Jili's successor, i.e., Zhou King Wenwang, had again married with Shang princess. Both the mother and the wife of Zhou King Wenwang, per scholar Fu Sinian, were princesses of Shang royal house. Zhou people were conferred the title of 'Xi Bo' (Count of the West) by Shang Dynasty King Zhouwang as a buffer state against the Western nomads.

Zhou King Wuwang's alliance against Shang pointed to the fact that the Zhou people, by the timeframe of 1122 B.C.?, had basically surrounded the Shang people from north, west and south. Having belief and confidence in ancient Chinese interpretation of classics, I will list the following quote to corroborate the fact that Shang was already surrounded by Zhou people before its demise: Generalissimo Cao Cao of Latter Han Dynasty, when advised to usurp Han after murdering two Han empresses consecutively, stated that Zhou King Wenwang had refrained from taking over Shang even though Zhou had already acquired majority land and fiefs of Shang Dynasty.

Duke Song Wei-zi
King Wuwang of Zhou would initially allow Shang King Zhouwang's son, Wugeng, to stay on as a ruler of the Shang people, and to continue Shang's family heredity. (Wei Juxian stated that Wugeng was the son of Shang Prince Lufu.) After the death of Zhou King Wuwang, Archduke Zhou assumed regency for the young nephew king. In the old Shang capital, Wugeng conspired with Zhou King Wuwang's brothers in a coup and hence got excecuted by Archduke Zhou. Archduke Zhou hence selected the elder brother of Zhouwang, Wei-zi, to inheritate the Shang family line in the land of Song as a duke ('Shang4 Gong1', namely, highest ranking duke, whereas the 'gong' word in other Zhou fiefdoms was merely a respect and honorific title for 'lord'). After the death of Duke Song Wei-zi, Wei-zi's brother, Weizhong, inheritated the dukedom. Weizhong would be the ancestor of Confucius (i.e., the fourteenth grandfather of Confucius).

King Bo Of The Rong People
One more legacy of the Shang people would be a group of people in Gansu-Shenxi areas. (In Zhou King Muwang's travelogue, around 1000 B.C.E. timeframe, we could see the Shang Dynasty remnants being assigned the land of the Northern Yellow River Bend.) Qin Lord Wengong would defeat the Rong and gave the land east of Qishan back to Zhou court. Another group of Rong people defeated by Qin Lord Ninggong would be ruled by 'King Bo'. This would be a Xirong lord by the title of 'Bo' in a place called 'Dang(4) She' where the character 'dang' was said to be a mutation of the Shang Dynasty founder, 'Shang-Tang'. Ancient classics said that this group of people claimed heritage from Shang-Tang and used the ancient Shang capital name 'Bo' for the title of their king. Ancient scholar Xu Guang claimed that 'Dang' should be pronounced as 'Tang' for Shang founder, while 'She' was meant for Du-xian county.

Qin Lord Ninggong (r. B.C.E. 715-704) would defeat King Bo and drove King Bo towards the Rong people during the 3rd year reign, i.e., in 713 BC. Ninggong conquered King Bo's Dang-shi clan during the 12th year reign, i.e., 704 BC. Ninggong died this year and was buried on Mount Xishan, i.e., Qinlingshan of Chencang.

The compositions of the Rong is complicated. We had touched upon the categories of Western Rong, Doggy Rong, and Rongdi Rong in the Hun section. In light of King Bo, we could say that some descendants or affiliates of Shang would be related to the King Bo's Rong people. (Huangfu Mi of Jinn Dynasty had doubts about King Bo's ancestry in Shang-Tang. Huangfu Mi of Jinn Dynasty treated King Bo as a branch of 'Xi-yi' or Western Yi aliens.)


Shang Civilization
Shang China had been known to the later Chinese due to the discovery of the 'oracle bones' in the late 19th century. The oracle bone discovery very much dealt a blow to the national-nihilists, as represented by Wang Guowei, follower of John Dewey's positivism. It is widely believed that the Shang Chinese had used the similar materials, bamboos, for writings and recordings. Unfortunately, those perishable materials did not last long. (Recent excations show that some kind of paper, made of straws and tree coating, was already in use during the Warring States time period, pointing to the possibility that the ancient Chinese did not necessarily use bamboos, only, for their writings.)

The tombs excavated would provide an excellent picture of the life and society of Shang China. Human funeral objects point to a very differentiated society, the bronze utensils a high degree of metallergy, and the bows an art of war quite sophisticated. The Shang Chinese bows would come to be known as the 'Turkish bows' in the west. In the prehistory.htm section, we mentioned that 'Yi' designation means the Eastern Yi barbarian people who carried the bows.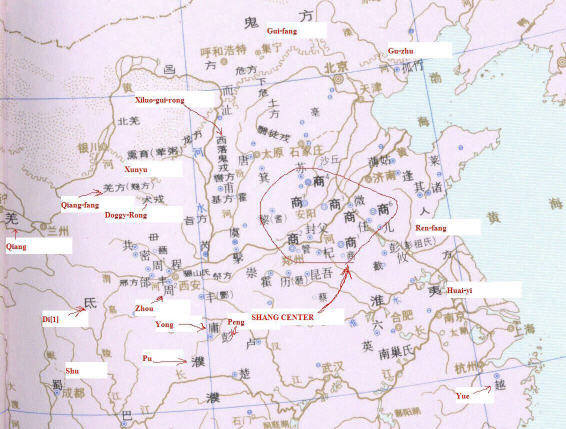 The Shang Chinese had already begun an expansion towards the perimeters of China. They designated four rulers in different directions, with the ancestor of the later Zhou Chinese being conferred the title of 'Xi Bo', i.e., Count of the West. The interpretations of various oracle bones, used as diviners, pointed to reverance for ancestors, prediction of harvest and hunting, and more importantly, the prediction as to success of wars to be launched. The Shang army would be probably the only army allowed on the domain to protect it from barbarians. Charles Hucker, in "China's Imperial Past", mentioned that Shang might have altogether 25 fiefs or statelets under its direct control. The number of fiefs or statelets certainly did not count the vassals as far as Sichuan Province - the land of the Sanxingdui Bronze Civilization, which was recently speculated to be related to the Xia Chinese refugees. Zhou King Wuwang, during his campaigns against Zhou, had at one time rallied Shang's 800 vassals. The Shang ruler, as commander-in-chief, led this army in campaigns against northern barbarians as well as against those aliens in the Yangtze River area.

The Shang Chinese apparently had much sophisticated knowledge about remote lands. Scholar Wei Juxian [Wei Chu-Hsien] analyzed the character 'long' for dragon and derived a conclusion that it was originally in the form of 'king snake' which the ancient Indian circus people brought over to Shang China. Wei Chu-Hsien also analyzed the character for phoenix to derive a conclusion that ancient Indonesians had brought 'jile-niao' peacock kind of red bird to China. Wei Chu-Hsien stated that Shang Chinese, on basis of oracle words "feng (phoenix people) lu (surrender) bai (hundred)", had at one time received hundreds of turtles from ancient Indonesians and Malasians as tributaries and later used the turtle shell for inscribing oracle characters. Some experts did pick up Wei Juxian's hint and researched into the origin of the turtle shell to derive a conclusion that it might have come from Southeast Asia.

Shang has a very advanced agriculture, with millet, wheat, and barley being the primary crops grown. In addition to the crops, silkworms, pigs, dogs, sheep, and oxen were raised. Shang dynasty was also advanced in metallurgy: bronze, weapons, and tools. Artistic pottery was also excavated from Shang tombs. The Shang dyansty, like previous Xia Dynasty, was an aristocrastic society, with a king ruling over the nobility who were responsible for providing military personnel in times of war as well as tributes for supporting the royal family. Underneath the aristocratic class would the priest class in charge of religion (ancestor worship and worship of gods). Further below would be the free civilians (denoted the Guoren, the city people, in later Zhou dynasty) and the slaves who frequently found themselves buried alive with the dead kings and aristocrats.

In Chinese legends, there were 'Three Huang' and 'Five Di' as overlords. While 'Three Huang' or 'San Huang' are more legendary and mythical figures, the 'Five Di' or 'Wu Di' would be more real time figures. Shang China's ancestor worship and worship of gods cannot be disconnected from those legendary figures. 'San Huang' would be Fuxi, Yandi (Fiery Lord) and Huangdi (Yellow Overlord). Another saying would be 'Heaven Huang', 'Land Huang', and 'Human Huang' or 'Taishan Mountain Huang'. The Three Huangs denotation was embodying the ancient Chinese religious ideas and it could be compared to the trinity in Chritianity. Concretely speaking, the relationship between heaven, land and human beings would be the eternal topics of ancient Chinese. The impact could be seen in early dynasties, like Shang, which upheld polytheism and semi-human gods like the ancient Greeks. Conventional history would make a distinction between the polytheism reverance of the Shang people and the Heaven reverance of the Zhou people. This distinction could also be seen in Confucius' saying that Shang people revered and embraced 'gui shen', i.e., 'gui' for ghosts or spirits and 'shen' for gods and lords, while Zhou people revered them but kept a distance from 'gui shen'. Confucius' saying had played a significant role in shaping the mundane nature of Chinese society.

Shang Dynasty's Totem - Bird
One important thing about the Shang people is their totem, a bird called 'Xuan', interpreted as either swallow or phoenix. (Guo Moruo claimed that 'xuan-niao' was phoenix.) Note that the literal meaning of 'xuan' is black, leading to orion.it.luc.edu/~cwinter/blshang2.htm by Clyde Winters who vehemently advocated the ludicrous school of thought that the Shang Chinese were of the Negroid origin. The totem bird's color had nothing to do with the race or color of skin/hair. (Wei Chu-hsien did commit a fatal mistake in extrapolating on the tin decipher for the city of Wuxi ["no tin"] and polarized the Xia-Shang dynastic substitution as a fight between Mongoloid [Negroid to be in Wei's apparently blown-away alternative writing] and Caucasoid, i.e., a fallacy that scholar Luo Xianglin opposed. Do note that Wei was a student of Wang Guowei who fallaciously proposed the notion of linking 'Hua' to the Avars and 'Xia' to the Tu-huo-luo kingdom in Central Asia. Should Wei have adopted 'black fish' of the Yangtze Deta as the god of "dark-skinned" Shang people who moved to the Yellow River with the tin from Wuxi hill, then how could he reconcile the ancient claim that the father of Yu, i.e., Gun of Xia people, was named 'black fish'? )

The Shang Dynasty people, like the people under ancient Fuxi the Ox Tamer, belonged to the Yi tribal group. Fuxi, aka Tai-hao-shi, was said to be the ancestor of phoenix tribe. "Zuo Zhuan" repeatedly stated that Tai-hao-shi, whose ruins ware at later Chen-guo fief, had such family names as 'Ren4' and 'Su4' around the domain of today's Henan-Shandong provinces. Shandong Province, however, could also be the birth-place of Huangdi (Yellow Lord). Shao-hao-shi (junior 'Hao' clan), said to be offsprings of earlier Tai-hao-shi (senior 'Hao' clan), had included various bird-totem sub-clans such as Feng-niao-shi (phoenix), Xuan-niao-shi (black bird), Qing-niao-shi (green bird), Zhu-jiu-shi, and Shuang-jiu-shi etc. Scholar Wang Zhonghan pointed out that i) Tai-hao-shi and Shao-hao-shi, dwelling around Mt. Taishan and the coast, might have absorbed elements from the Huangdi tribe of the Yellow River line; and ii) that the character 'Yi' had appeared as the Shi-fang statelet in Shang Dynasty's oracle bones; and iii) that by the late Spring & Autumn time period, numerous Eastern Yi groups still existed in today's Shangdong-Jiangsu provinces and around the Huai-shui River.

Among above-mentioned bird totem people, Xuan-niao-shi meant for the Shang people. According to "Guo Yü" and "Mencius", the Shang people took pride in Lord Shun being their ancestor. In the land of the east, close to 8-9 groups of the 'Yi' people were recorded in ancient times, invariably endorsing 'bird' as their totems. The totem names would be in various colors, like white bird, yellow bird and etc. As pointed out by scholar Zhang Fan in his article, "A Research Into the Shang Totems and the Confucius Ancestry", Lord Yu, per "Mo-zi", had spread teachings to nine Yi people in the east. Section on Dong-yi of "Hou Han Shu" by Ban Gu stated that the Yi people included subgroups like Quan-yi [doggy Yi], Yu-yi, Fang-yi, Huang-yi [yellow Yi], Chi-yi [red Yi], Bai-yi [white Yi], Xuan-yi [black Yi], Feng-yi [phoenix Yi], Zi-yi, and Yang-yi [sun Yi] etc, hence incorporating Yi on an inclusive scale. ("The Bamboo Annals" included additional Huai-yi [Huai-shui River Yi] and Lan-yi [blue Yi]; and "Yu Gong" of "Shang Shu" mentioned Lai-yi [Laizhou prefecture Yi].) Zhang Fan cited another scholar's research in stating that the colors of yellow, white and red etc were designations of the clothing of the Yi people, only.

Shang's totem would be a topic during Zhou's succession of Shang as the sentence "Phoenix Singing on Mount Qishan (Zhou's homeland)" goes, meaning the power totem would change hands. (Today's dragon dancing, as seen in Chinatowns during the spring festivals, is a much later phenomenon. It would be Han Fei the legalist who described to Qin's First Emperor Shihuangdi the kind of prickly skin a dragon had. Han's first emperor Liu Bang would be said to be an incarnation of a red dragon who cut a white snake into two halves while he was on the road of taking refuge after he set free convicts of the Qin Empire. Complicating the matter of the dragon reverance would be the fact that early Huns called their city of pilgrimage 'long cheng', i.e., dragon city, and they had an annual gathering for revering dragons. Should we say the Huns were true descendants of dragon?)

The Chinese Ethnicity
Often misinterpreted would be two words in "Shi Ji": 'Qian Shou' and 'Li Min'. 'Qian Shou' means dark head. 'Qian' would be used as an alias for Guizhou Province in the south, and it means dark or black. 'Li Min' or 'Limin' means the people whose face had turned darkish and became brown. Both terms were used for designating the lower level people. I noticed one or two claims (including Clyde Winters) on the internet saying that the Chinese people being ruled were of Negroid origin and that the 'Li Min' term validated this fact. (Clyde Winters cited a late Chinese scholar called Kwang-chi Chang, i.e. Guangzhi Zhang, in supporting his claim. I read through Zhang's article on early dynasties and noticed only one definite statement in regards to 'dwarfs' or pygmy people who had at one time shown their presence on the Chinese continent.) Clyde Winters claim is fallacious the same way as those who claimed that the rulers of China, Zhou or Qin, were of Caucasoid origin and they ruled the Mongoloid people. I deem both sayings as fallacious.

My interpretations would be based on the following quotes and citations. "Shi Ji" recorded that Qin's second emperor (Huhai) had once rebutted Li Shi's loyalty by citing Lord Yu's hardwork on behalf of Lord Shun. Huhai said that Lord Yu had spent years travelling around the country for sake of flood control and that Lord Yu's face had turned 'li hei', that is, the kind of brownish darkness. Also on record would be Li Shi's self account by calling himself a 'qian shou' or 'qianshou', i.e., a civilian. "Haan Fei Zi" said that the working people possessed hardened palms and 'li' face as a result of hard work and that they should be ascribed big contributions to the society. Later records in 4-5th century continued to use the word 'li' or 'zheng li' (steaming or sweating li people) for designating the masses. (The character 'zheng', per Chinese dictionary, means a huge number, but I would rather interprete it on basis of its original meaning, i.e., steam. This character was also used for the relationship between a man or emperor and his father's comcubine.)

To dispel 'hair' extrapolation, I will give two good examples to show that Qin/Zhou Chinese were not color-blind people. The blackness, coined in 'Qian Shou' and 'Li Min', was related to the skin, not the hair. When Qin Mugong repented over his mistake in invading Zheng Principality which had led to the ambush disaster at the Battle of Xiao'er, he used the characters 'huang fa po po' (white hair turning yellowish) to describe the high age of his two counsellors, Jian Shu and Baili Xi. Both old men, 80-90 years old, had objected to Mugong's war against Zheng in the first place. The second example would be the reference to Daoist founder, Lao-zi, as Huang Lao. Lao-zi was recorded to have grown yellow beard and he was called Huang Lao or the Yellow Elderly. This shows that ancient Chinese did know the difference between 'huang' (yellow) and black. The universal feature of 'black' hair was not something that would have deserved a special coding in the terms of 'Qian Shou' and 'Li Min'. 'Qian Shou' and 'Li Min' meant nothing other than brownish dark skin as a result of sunlight exposure, not hair.

The Shang Dynasty Descendants at the Perimeter
Other than the Song statelet where Shang Prince Wei-zi was to rule as a fief under the Zhou Dynasty rule, we mentioned a group of the Rong people under King Bo in western China. Additionally, Shang Prince Ji-zi purportedly took a large number of the Shang people for the land of "Yang-yi" (i.e., sun Yi) or "Ming-yi (i.e., brightness Yi). Ji-zi was to found the ancient country of Chaoxian (Korean) in southern Manchuria and North Korea. In the Book of Changes, the clear reference was the conferral of the land of Korea onto Shang Dynasty Prince Ji-zi, with the words stating that Ji-zi was in the land of 'Ming-yi', i.e., the brightness Yi people --which could be the 'Yang-yi' or the Sun yi living along the Shandong coast during the 3rd millennium B.C.E., one of the Nine Yi people, with nine meaning nothing other than numerous in Chinese, similar to the Yuezhi's nine Zhaowu clans in central Asia or the Nine Name Hu Clans. Ji Zi devised eight clauses of teachings for his people, with his dynasty lasting over 40 generations.

Note that in Zhou King Muwang's travelogue Mu Tian Zi, there was an inference to the effect that Shang Dynasty remnants were assigned the fief of the Northern Yellow River Bend as the god of river. Those Shang people, who lived at the river bend at Zhou King Muwang's time, could be the same as the "Mo" ["He"] people who were recorded by Shi Jing to have relocated to Manchuria under the pressure of the "Xianyun" barbarians (i.e., predecessors to the Huns). In the "Mo" ["He"] or "Mo-Hui" land of Manchuria, the Koguryo people and the Fuyu predecessor were successively recorded by San Guo Zhi, Liang Shu and Bei Shi to have adopted the Shang Dynasty's practice and customs, namely, treating the month of lunar December as the start of the new year and lunar October the time for the sacred heaven-praying ceremony, as well as wearing the white-colored clothing and decorations.


Ah Xiang